Verifiers
With the FDA deadline approaching for Medical Device Class II, verification is more impo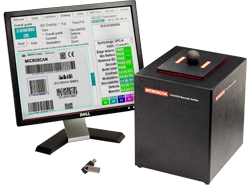 rtant than ever. UDI Barcode verification is made easy with our verifiers. The biggest benefits of any Barcode Verifier System is, simply, reassurance and confidence that the barcode will perform as intended at all stages of the product's movement down the supply chain. This leads to untroubled supplier-customer relationships:
Reduced risk of print re-runs / wasted packaging and products
Confidence that printed barcodes will scan first time, every time
Improved read rates throughout the supply chain
More efficient movement of stock through supply chain.
Many large-scale operations and government agencies require barcode verifiers to ensure error-free data entry. If you are complying with these standards, barcode verification is necessary to prevent fines and maintain the standing of your contract.
Barcode Solutions Ltd provide verifiers from Leading suppliers such as LVS, Axicon and others.
We also provide a verification service to check your barcodes are compliant, providing you with a Full GS1 approved report. Please be sure to CONTACT US with your details and we will be in touch to discuss your needs.