Stand Alone Systems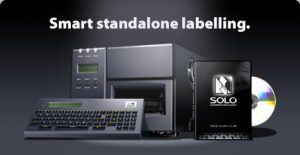 Smart Standalone Labeling
Why Standalone?
Label Direct for SOLO is a powerful professional label design and print software which also builds standalone system.
Standalone printing is an appropriate solution for applications across many industries.
A wide variety of standalone system configurations can be accommodated such as Printer connected to:
1. Scanner
2. Keyboard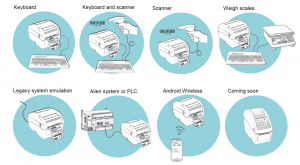 3. Keyboard and scanner
4. Android Wireless
5. Legacy system emulation
6. Integrated Keyboard (Coming soon)
7. Alien system or PLC
8. Weigh scales
Please CONTACT US for a quotation or more information. You can also SHOP now for some of the solutions available.
BARCODE SOLUTIONS LTD now offer this second generation powerful and easy to use product for label printing without a PC.
SOLO is a unique package allowing simple or sophisticated labels to be designed on a PC and instantly transferred to the smart printer for simple to operate PC independent printing.
Simplicity
Very simple for any operator to use
Little or no training required
No PC in production area
Suitability
Robust construction for industrial use
Resistant against dust and spillages
Speed
Direct printing performance
No delay waiting for a PC to start up
No delay waiting for printer driver
Security
Label format cannot be changed
No access to internet , network or PC settings
Not as likely to be stolen as a laptop or PC
Space
Takes up less space
No mouse PC or monitor
Minimal cabling and power