RIBBONS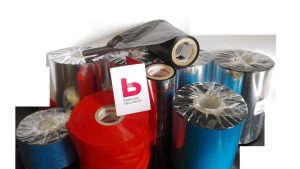 Thermal transfer printing is one of the most widely used technologies in the industrial world to print barcodes and variable data onto labels on site and on demand. Thermal transfer technology allows users to print crisp, resilient images on a virtually unlimited universe of substrates – a primary requirement of most bar coding requirements. Thermal transfer ribbons are used in bar code printers, label printers, tag printers, ticket printers, addressing machines and in-line packaging machines. Thermal transfer ribbons are available in wax, wax/resin and all resin and are also available in a range of colours. All the ribbons have a silicon back coating to protect and prolong the life of the printhead whilst reducing friction.
We provide NON BRANDED RIBBONS, ZEBRA BRANDED RIBBONS, TOSHIBA BRANDED RIBBONS, TSC BRANDED RIBBONS and ribbons from other suppliers. We provide only Quality Ribbons for Thermal Printing and provide the Best Thermal Print Ribbon Prices we can.
Be sure to CONTACT US with your details and we will be in touch to provide a quote.